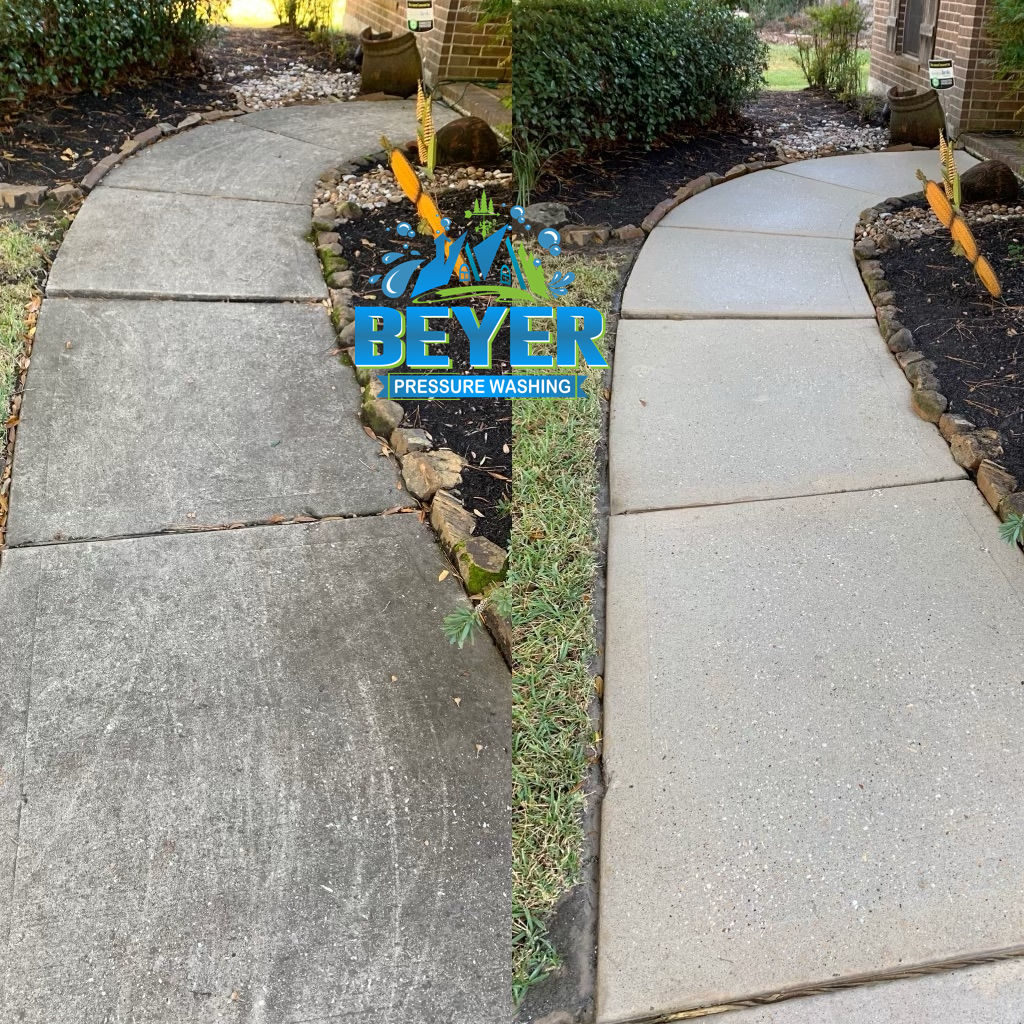 Beyer Pressure and Soft Washing provides a variety of soft and pressure washing services. We use state of the art, safe, and effective, chemical mixtures. We have an industrial grade trailer mounted unit with it's own water reservoir; meaning we can reach ANY stain or spot!
When it comes to hot and cold washing services, Beyer Pressure Washing can handle any job big or small. Whether it's your first time cleaning your new driveway, or you're looking for a better rate on your commercial parking lots, buildings or sidewalks, Beyer Pressure Washing is here for you.
Driveways and Sidewalks constantly attract grease and dirt. Leaf debris decomposes and leaves a stain. No big deal, Beyer Pressure Washing safely and effectively handles issues like this. By no means can we remove EVERY stain, however we use our industrial grade pressure washing system, and a variety of techniques to efficiently clean your driveways and sidewalks. And we do it with a smile! When appropriate, our technicians where masks to prevent the spread of disease.
We serve home owners and landlords by removing mold, bacteria, stains, and mildew from all kinds of home and commercial siding. Organic growth is no problem for Beyer Pressure Washing in San Antonio. Our soft-wash experts will carefully analyze your building surfaces and apply the proper mixture of chemicals, pressure, and temperature to gently restore your walls and siding to a clean state. One common statement our customers are often caught saying: "I had no idea it was so dirty!". This comes from the thorough and precise services, performed by our pressure and soft washing professionals.
Don't see the service you're needing? How can you find out about cleaning something out of the ordinary? Don't hesitate to reach out! Every now and then we get a job that makes us tilt our head or chuckle. So if you have something you're thinking about having pressure washed, we invite you to contact us! We love a challenge, so drop us a line and ask us if we can clean what you're thinking of!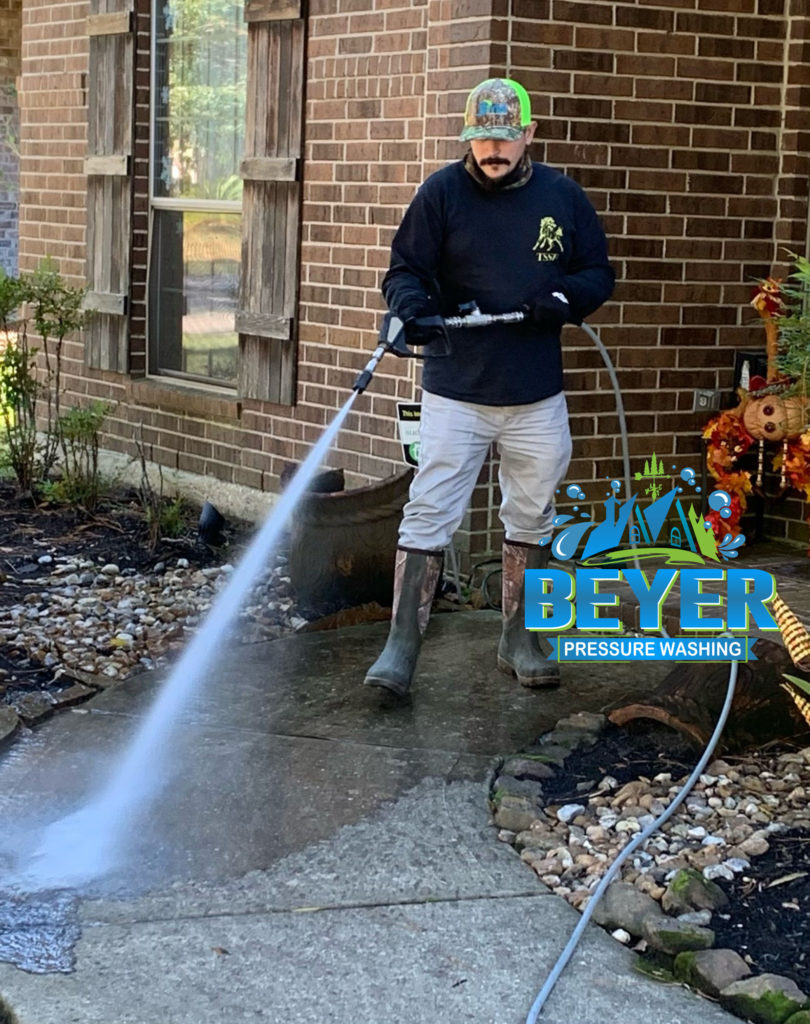 We provide Deck and Steps cleaning, using the best attachments to protect your underlying construction while obtaining the best possible wash. We don't just roll out with a prayer and a spray pressure washing system. We use every appropriate tool to clean your surfaces; thoroughly and carefully. Please consider how your pressure washing service provider plans to soft wash your balcony or patio. Just going at it with a pressure wand can easily damage the material or construction integrity. Replacing a deck right after you wash it isn't ever fun! Our soft wash professional will carefully assess any problem areas, and plan their approach to cleaning your outdoor areas. If you have concerns about this please let your expert know before they begin washing.

When it comes to surfaces like wood, or perhaps aging vinyl, it becomes crucial to analyze and apply the proper cleaning technique. One common issue with wood is if using high pressure or heat it could strip or warp the wood. This can cause lasting damage or destruction!
Beyer Pressure Washing works with owners to properly assess the situation at your job site. We will communicate clearly with you about the process chosen for your job, reasons for using that process, and what results you may be able to expect.
Don't feel timid to ask your Soft-Wash Professional to repeat anything you need to remember about preparation or post-cleaning maintenance and expectations. Our primary goal is to leave behind happy customers! We don't mind talking about your questions and concerns.

Please notify us of any plants you're concerned about nearby the cleaning area. We will prepare the area by generously spraying all plants to protect them from any mixture we spray nearby. We also flush them during and after any mixture is applied. This prevents damage to MOST common plants and lawns. If you have concerns about any specific plant nearby that you fear maybe prone to damage, notify your soft-wash expert beforehand so precautions can be taken to protect your greenery. We do prepare the surrounding plants in the area anyways, but we appreciate a heads up about any valuable or sentimental plants near any cleaning.
We clean gazebos, outdoor stages, concession areas, picnic tables, dugouts, grills, vehicles, garage floors with oil stains, dog houses, animal cages, churches, tennis and basketball courts, bleachers, fleet vehicles, porches, parking lots, paths, sidewalks, covered areas, food trucks, holiday decorations, statues and monuments, and much, much more. Anything under two stories we can typically clean.
To Schedule Now, call (210) 815-3099